clinic.skin. is home to a couple of the most experienced skin cancer doctors that the Sunshine Coast has to offer. Learn more about your local doctor below.
Dr Scott Wilmot
Director, clinic.skin.
MBBS FRACGP Dipl Skin Cancer Medicine (SCCA)
Dr Wilmot has been working full time in Skin Cancer Medicine since 2002.
He has lived and worked exclusively on the Sunshine Coast following graduation from the University of Queensland in 1993, with junior hospital years at Nambour General Hospital and entry into General Practice in Nambour.
After attaining a Fellowship in General Practice, Dr Wilmot began working in Skin Cancer Medicine, establishing and co-owning Queensland's largest doctor-owned group of Skin Cancer Clinics covering South-East Queensland from Bundaberg to North Brisbane, and incorporating a dedicated pathology laboratory.
clinic.skin. is the culmination of many years working in this field, and has been purpose-built with a view to optimising patient outcomes.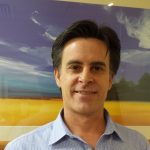 Dr Mark Devin
MBBS FRACGP Adv Clin Cert Skin Cancer Medicine and Surgery (SCCA) Adv Clin Cert Dermatoscopy (SCCA) Master of IT (QUT)
Dr Devin has been working full time in Skin Cancer Medicine since 2004.
Dr Devin graduated from University of Queensland in 1994 and worked in Townsville and Nambour hospitals before starting General Practice on the Sunshine Coast.  After obtaining a fellowship in General Practice, Dr Devin has worked in the area of skin cancer medicine.  He is particularly interested in dermatoscopy (epiluminescence microscopy of skin lesions using a dermatoscope) and dermatoscopic photography.
Dr Devin has also done a master of information technology (QUT), and is an expert when it comes to cancer systems record keeping.
He is excited to continue his expertise with clinic.skin. and looks forward to speaking with you at your next appointment.